Did you wait until the last minute this year? It's too late to ship something from your favorite ecommerce site but you still have just enough time left to find the perfect final stocking stuffer…or the "main event" gift for someone on your list. If you're shopping for a chic chick, we've got you covered.
Don't forget to look at our posts last week that gave some great gift ideas and desk accessories for the tech chic in your life, even if that person is you!
Gift Category #1: Stocking Stuffers
If you need a little something extra to stuff the stocking of someone on your list, head to Sephora, Ulta or another beauty supply store and get them the best body butter on the planet to have at their desk. In many yummy scents and with inspirational sayings, it's a great stocking stuffer and large bottles are about $28.
For about the same price and the same size (still thinking stocking here), find your gift recipient a holiday candle from Yankee Candle or Bath and Body Works. They can burn them at the office and good candles will last more than the full 40 hour work week.
Be sure to pick easy-going scents like pine and cinnamon as opposed to sweeter, stronger options like frosted sugar cookie and vanilla bean.
Category #2: The big gift
Best Buy will be your target here. Of course, you can still pick up a DVD, new headphones or an iPhone case if you need a stocking stuffer, but now we're talking electronics. iPads, Blu Ray players and Bose sound docks will be just the ticket for a last minute, high-end gift. Bose sound docks start at around $250 and iPads run over $800 so pick your price and head to the King of Electronics you procrastinator, you.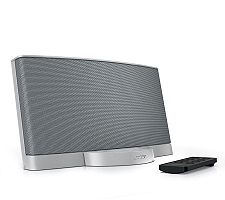 Category #3: The Family Gift
Are you gifting to your significant other's family this year? Or buying a gift for your family perhaps? Skip the Jelly of the Month Club and opt for something with a little more creativity. A nice bottle of their favorite beverage or a gift certificate to a swanky restaurant they've never tried are good beginner gifts. You can also get a little more creative and go for tickets to the performing arts or to a cool New Year's party.
Not sure where to go from there? Flowers, a gift basket or baby sitting are appreciated and you can also consider buying a small gift for each person. Say, a massage, cigar cutter (or the aftershave below) and board game to really round out gifts for the whole brood.
Don't blow it!
No matter what you decide to do, saying you'll "get it later" or "take them out to dinner" just won't cut it this year. Put a little last minute time into your gift but most importantly, make it look like you put a lot of time into it by wrapping it and adding a hand-written Christmas card. Nothing covers up a moment of procrastination like a Christmas card.
Good luck this year and don't forget to follow ChicsTech on Twitter @BeautyApps!